Have you ever heard the story of the Master Thief?  Long story short, the thief is challenged to steal the count's favorite horse, bed sheets, and the ring off the countess' finger. The thief is pretty much the most cunning man ever and pulls it off and then disappears.  The End.  The good folks at Grimm Brothers Brewhouse know the story, and they thought it was a great idea for a beer.  Grimm Brothers got together with a fantastic local design studio, Tenfold Collective, to create the logo.  Here is a picture of their inspiration.
Pretty sweet right? For all you art nerds out there, the original is Jacques Louis David's Napoleon Crossing the Alps. I really like how Tenfold Collective put the ring on the Master Thief's finger and the bed sheets are his "cape".  After the artwork was completed we got started on the t-shirts.  Here is a picture of the print: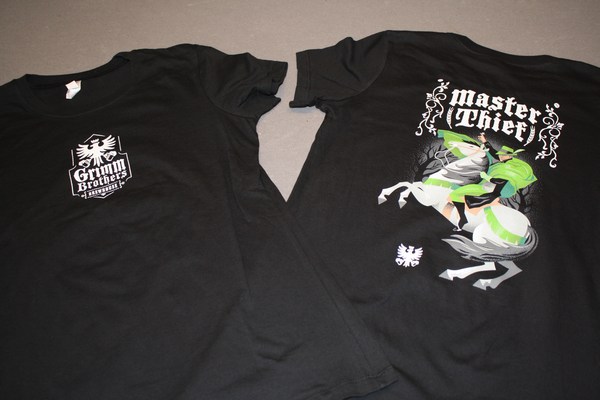 When we print on a dark garment like black, navy, brown or even red, we have to lay down a layer of white so the other colors pop.  The process is called underbasing.   Here is a short video about underbasing.  Gripping stuff right?  When we print lots of colors on an underbase, it becomes more of a challenge for the printers.  We are super proud of our printers and here is a close up of the back print.
Next time you are in Loveland, Colorado stop by Grimm Brothers to sample the beer and maybe pick up one of the shirts.